Impact of fluctuation interferences to the responders performance of secondary surveillance radar system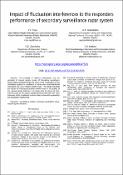 Анотація
The principle of network construction and the principle of request signals service of Secondary surveillance radar systems predetermined the work of the respondents of the considered systems in conditions of intra-system and intentional correlated and uncorrelated interferences. The article estimates the impact of masking fluctuation interferences on the quality of the request signals detection. It is shown that the choice of time-interval codes as the request signals predetermined the low noise immunity of the considered systems when a channel is exposed by the fluctuation interference.
Ключові слова
surveillance systems
,
secondary surveillance radar
,
request signals detection
Цитування
I.V. Svyd, A.E. Goriushkina, G.E. Zavolodko, O.S. Maltsev. Impact of fluctuation interferences to the responders performance of secondary surveillance radar system. // 2018 International Conference on Information and Telecommunication Technologies and Radio Electronics (UkrMiCo), Ukraine, Kharkiv, 10-14 Sept. 2018. – Odessa: 2018. – P. 1 – 4. DOI: 10.1109/UkrMiCo43733.2018.9047575.