Binarization Methods in Multimedia Systems when Recognizing License Plates of Cars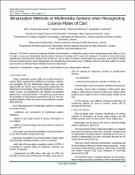 Файли
Анотація
This work is aimed at analyzing methods of binarization in multimedia systems when recognizing license plates of cars. In order to carry out binarization license plates, features of existing (LPC) were first analyzed. A review of most well -known classification of binarization methods was carried out, and on basis of analysis, classification was proposed, which will be divided into four general classes, which distinguishes our classification from known ones. A fallback class has also been added. As r esult, pros and cons of all binarization methods have been determined.
Ключові слова
binarization methods
,
images
,
recognition
Цитування
Abu-Jassar A T., Sotnik S., Sinelnikova T., Lyashenko V. Binarization Methods in Multimedia Systems when Recognizing License Plates of Cars // International Journal of Academic Engineering Research (IJAER) . – 2023. – Vol. 7(2). – P. 1-9.