Development of methods and models of complex of security technolo-gies for printing products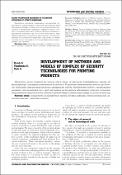 Файли
Видавець
НПП ЧП «Технологический Центр»
Анотація
The object of research is the process of selecting elements that make up a complex of security printing technologies to counter the fabrication of printing product. The problem is caused by the development of reproductive and digital technology, which makes it possible to easily reproduce an unsecured original packaging or label. The analysis of existing technologies for describing the security level of a printing product against falsification with subsequent identification of its shortcomings is carried out. The application of the method of integral indicators for evaluating the security of a printing product against falsification is proposed. The peculiarity of the technique consists in determining the weigh coefficients taking into account 15 technological series to exclude the use of the same type of protective elements. The significance of each element in the integral evaluation is determined by the analysis of 500 labels (printed products). A further study is in refining of the proposed weight coefficients and development of an information support decision-making system for designers of secured printing products. Research results are recommendations for optimizing the choice of security complex.
Ключові слова
security of a printed product against falsification
,
technological series
,
security complex
,
security element
Цитування
Vovk A. Development of methods and models of complex of security technolo-gies for printing products / A. Biziuk, V. Tkachenko, A. Vovk // Technology au-dit and production reserves. – 2017. – № 3/2(35). – P. 33-40.